Company Background
Our family (which includes our employees) is busy making Texas a better place to live. We are involved in local youth athletics as well as civic and community organizations. We pay taxes and belong to the Chamber of Commerce and the Better Business Bureau. We attend local churches and participate in local and international mission trips and projects. We give to local charities and promote our local school clubs and organizations! In short, we are Texans! We enjoy serving Austin and its surrounding communities, making this area a great place to work, live, and play.
---
Credentials
Better Business Bureau (BBB)
BBB maintains Business Reviews on more than 4.5 million businesses and rates them based on complaint histories, responsiveness to customers, licensing, legal and government action, and other factors. Only Accredited Businesses that meet the BBB Code of Business Practices are permitted to display the BBB logo in their marketing and place of business.
---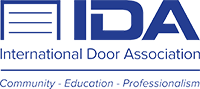 International Door Association (IDA)
Founded in 1995, the International Door Association's primary mission is to provide programs and services to door and access systems dealers, for the express purpose of enhancing their value and professionalism.
---